Our top notch team designs and builds your website on the industry-leading WordPress platform. We customize your site to suit your brand and style as well as to optimize conversions using our years of experience driving customer engagement. We also design your social media accounts to match your site.
Websites with Ooomph
Our websites are built to make your business look stellar to your potential customers as well as get them to take action. We also build with mobile in mind making your site look great for mobile visitors and operate smoothly on all devices. In addition, because we integrate your website with our social, SEO, text marketing, email, video marketing and rewards program efforts, the websites we build become powerful hubs for interaction with customers, and long term drivers of your businesses positive reputation.
Social That Soars
Your social efforts need to look good but also encourage your audience to engage and take action. Our social sites are designed to align with your brand and especially your website. Customers visiting your social property and then your website will have a sense of credibility and connectedness that build trusts and helps them feel confident in purchasing from you.
Some Examples from our Portfolio
We love to show you what we've done for clients! For all of the examples we share from our portfolio, we have been given explicit permission from the client to share and discuss with potential clients. We never share details of any of our clients without clear advance permission.
The below samples  show you the variety of work we have done for our clients and just how effective and catchy our powerful our integrated web and social capabilities can be when coordinated.
Oakridge Dental – Dental Practice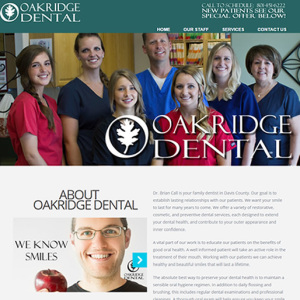 For Oakridge Dental we built a website focusing on an uplifting environment and encouraging new patients to take that first step and schedule an appointment.
Lead capture – the site utilizes a special offer for new clients to get 20% off their first visit. Whenever a new patient requests the offer they are added to the Oakridge Dental mailing list automatically.
Single page – To make it easy for visitors to find what they are looking for and to promote all that Oakridge has to offer we built the home page with included testimonials, video, staff profiles, practice information and contact details.
Performance – With our integrated social and SEO marketing the site has more than quadrupled the online referrals that Oakridge was getting before we took them on as a customer.
See a full view of the homepage here.
 Herbert Riggs – RE/Max Hall of Fame Member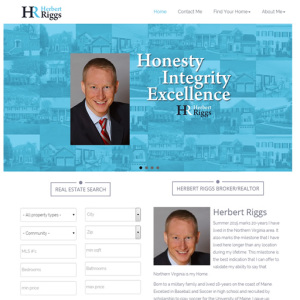 Herbert Riggs website emphasizes the core values that make Herb one of the leading agents in the Washington DC area – Honesty, Integrity and Excellence. In addition, the site was built to update every hour with new and updated listings from Herbert's primary markets. These listings are then redistributed automatically to each of Herbert's social media accounts creating a valued destination for those interested in the DC area market.
David Cook Law Firm – Law Practice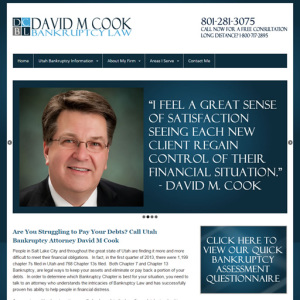 We were hired by David Cook's law firm to develop a site that gave confidence to those in financial distress to hire the firm as their legal representatives in the bankruptcy filing process. The core message we were conveying was "trust" focusing on a layout, color scheme and messaging that highlighted David's record as on of the area's most competent and qualified bankruptcy attorneys.
The site's integration with social media makes it the hub for regular social posts automating interaction with the social community on the topics of bankruptcy, debt relief and financial management.
Discover The Webadocious Difference
We'd love to talk with you about how our approach of integrating website, social, search and the other aspects of your digital marketing can make a huge difference in your business's performance. Call us today or fill out the form at the below and we'll reach out to you with a demonstration.
The Webadocious Team